Categories:
Fashion
Photo: Pexels
Are you trying to determine the quality of some custom leather goods and need help? Find out how in this short fashion guide!
Leather is one of the most important fabrics within the fashion industry. It's been used for thousands of boots and coats to create an aesthetic that pleases male and female customers. Custom leather goods have been made to help users design their own bags and accessories, letting everyone show their fashion designer within.
So keep reading to learn more about utilizing leather. Following these steps will help you create beautiful designs that will bring the envy of your friends.
HOW TO DETERMINE LEATHER QUALITY
Pretend that you can remove a piece of animal hide and look at it with a microscope. On the top layer, you should see the skin pores, hair follicles, scars, and the hair themselves. Placed directly beneath is thick woven tissue and dense fibers. Underneath that is another layer of fiber, which is has a lower density and is laid in a horizontal pattern.
Now, the majority of leather hides is made by special machines. Determining the leather quality depends on what happens in post-production (i.e., how it was skinned, what processed was used, etc.). Here are the common categories of what leather pieces are available:
FULL GRAIN
Full-grain is the best customer leather good quality you'll find. It's the hide's top layer that's not sanded. So you'll still see some imperfections, scars, and pores. Also, full-grain leather is desirable because of its natural aroma, durability, or its ability to look like a patina after extended usage.
Photo: Pexels
TOP GRAIN
Top Grain leather shows the pelt's top layer or the densely packed grain. However, these parts have been sanded down to prevent imperfections. Most Italians can't describe the difference between a top grain and full leather. So there might be some confusion over which one is the best in Italy.
BONDED
Bonded leather comes from the results of the completion of other projects. Leather dust, excess pieces, and shavings – that's been pressed together and shaved in a factory. This is due to the combination of different dyes, glues, and chemicals.
Warning: Bonded leather is spray painted to appear like natural leather grain. You can smell with your nose to determine if the leather is made of Superglue or an authentic cow.
Imitation
If you're looking for high-quality leather, don't get imitation leather. But, ecopelle might be a better solution if you don't want to buy animal products.
HOW TO SELECT LEATHER
There are a few factors you need to consider when looking for your custom leather goods. View this table to find out.
| | |
| --- | --- |
| Feature | Explanation |
| Suppleness | The leather should feel supple, soft and smooth, not stiff. |
| Aroma | First, smell with your nose. It should smell natural and musky. Avoid any custom leather goods that smell like chemicals. Chemicals are used to cover up lower quality and treat the hides. |
| Color | The best leather will have a brown or tan appearance. Dyes in green or red, can mark for a low-quality leather. If there are unfinished edges, you should tell if the leather's color penetrates through the hide or rests on the surface. |
| Stitching | The leather stitching needs to be regular and tight, with smaller stitches sewn together. |
comnum(0) tbcount(0) tbcount(53)
Categories:
Fashion
Amber Valletta stars in David Yurman fall-winter 2018 campaign
David Yurman heads to Oracabessa, Jamaica, for its fall-winter 2018 campaign starring some of today's top faces. Amber Valletta, Ashley Graham, Anna Ewers and Joan Smalls appear in enchanting shots captured by Peter Lindbergh. "The campaign captures the beauty in everyday moments of life, evoking joy and a spirit of playfulness yet sophistication," says Chief Creative Officer, Evan Yurman. Alex White works on styling for the shoot with Odile Gilbert on hair and makeup by Tom Pecheaux.
Related: Ashley Graham Strikes a Pose for Marina Rinaldi Fall 2018 Campaign
DAVID YURMAN FALL/WINTER 2018 CAMPAIGN
Joan Smalls stars in David Yurman fall-winter 2018 campaign
Ashley Graham stars in David Yurman fall-winter 2018 campaign
Anna Ewers fronts David Yurman fall-winter 2018 campaign
Amber Valletta flashes a smile for David Yurman fall-winter 2018 campaign
Peter Lindbergh photographs David Yurman fall-winter 2018 campaign
David Yurman launches fall-winter 2018 campaign
comnum(0) tbcount(0) tbcount(49)
Categories:
Fashion
Joan Smalls flaunts her backside on the August 2018 cover of Harper's Bazaar Greece. Photographed by Greg Swales, the Puerto Rican beauty wears printed pants from Versace. For the accompanying spread, Joan poses in sizzling looks for the warm weather season. Styled by Sandy Armeni, the Estee Lauder face wears labels like Emporio Armani, Alexander Wang and Dior.
comnum(0) tbcount(0) tbcount(57)
Categories:
Fashion
Elsa Hosk on ELLE Spain August 2018 Cover
See the top stories from the first week in August.
Editorials:
Elsa Hosk Models Chic Fall Styles for ELLE Spain
Kaia Gerber Poses in Statement Fashions for Italian Vogue
Barbara Palvin Takes the Spotlight in Harper's Bazaar Taiwan
Sasha Pivovarova Models the Autumn Collections for Numero Tokyo
Karolina Kurkova Wears Fashion Forward Styles in Harper's Bazaar Turkey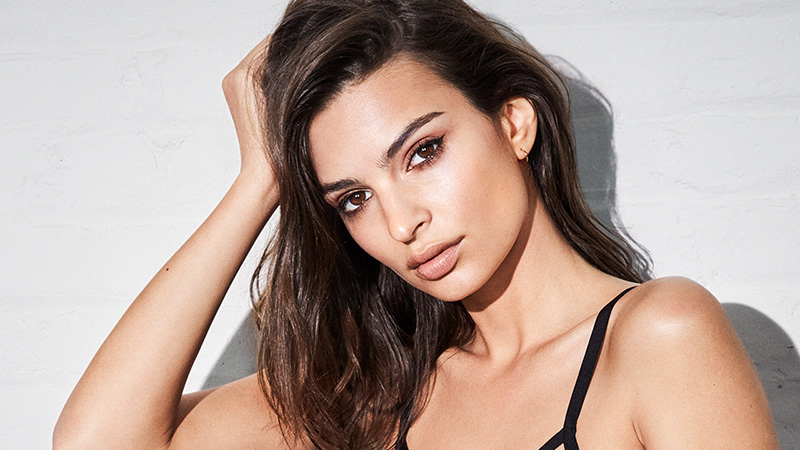 Emily Ratajkowski for DKNY Intimates fall-winter 2018 campaign
Campaigns/Lookbooks:
Emily Ratajkowski Sizzles in DKNY Intimates Fall 2018 Campaign
Kaia Gerber Leads Saint Laurent Palermo Summer Nights Campaign
Doutzen Kroes Gets Sporty in New Activewear Campaign
Georgia May Jagger & Suki Waterhouse Front Twinset Fall 2018 Campaign
Dolce & Gabbana Celebrates Rome with Fall 2018 Campaign
Milla Jovovich stars in Balmain fall-winter 2018 campaign
comnum(0) tbcount(0) tbcount(56)
Categories:
Fashion
See the new Krewe x Reformation sunglasses collaboration
Both champions of sustainable style, clothing brand Reformation and eyewear company KREWE team up for biodegradable sunglasses. The collection features three different styles perfect for just about any outfit. Choose from the rectangular 'Milan' shades, cat-eye framed 'Irma' or retro inspired 'Ward'. These sunglasses are not only extremely chic, but are also 100% biodegradable. Discover more about the KREWE collaboration below, and shop more at TheReformation.com.
Related: 7 New Dresses From Reformation
REFORMATION X KREWE SUNGLASSES COLLABORATION
Krewe x Reformation 'Ward' Sunglasses $275
Made with from an ultra-lightweight construction, these rectangular frames channel retro vibes.
Krewe x Reformation 'Irma' Sunglasses $215
The classic cat-eye silhouette gets updated with a sleek shape.
Krewe x Reformation 'Milan' Sunglasses $215
Inspired by the 90's, a mossy green tortoise frame comes in a rectangular shape.
Shop more sunglasses at Reformation:
Carla Colour Recycled 'Barton' Sunglasses $220
Made from 100% recyclable + biodegradable material, these sunglasses come in a sleek cat-eye silhouette.
Carla Colour Recycled 'Jarvus' Sunglasses $220
Shield your eyes from the sun in oversized, square frames with apricot lenses.
comnum(0) tbcount(0) tbcount(36)
Categories:
Fashion
& Other Stories Tortoise O-Ring Wrap Midi Dress
and
Studded Strappy Stiletto Heels
& Other Stories channels 1970's disco style with the launch of its new trend guide. Called 'Frock Stars', the fashion shoot features models wearing vintage inspired dresses and separates. From the classic wrap dress to wide-leg pants and form-fitting bodysuits, these pieces will easily fit into your new season wardrobe. Paired with strappy sandals and statement necklaces, up your style game with & Other Stories.
Related: Riviera Riders | 6 Vacation Looks From & Other Stories
& OTHER STORIES 'FROCK STARS' LOOKBOOK
& Other Stories Curved Hem Midi Wrap Dress
,
Studded Strappy Stiletto Heels
and
Small Suede Fold Over Bag
& Other Stories Twist Knot Midi Dress
and
Studded Waist Belt
(Left)
& Other Stories Curved Hem Midi Wrap Dress
(Right)
& Other Stories Plunging Crinkle Swimsuit
,
Tapered Linen Blend Trousers
and
Voluminous Hairband
(Left)
& Other Stories Twist Knot Midi Dress
and
Studded Waist Belt
(Middle)
& Other Stories Striped Scoop Bodysuit
and
High Waisted Belted Trousers
(Right)
& Other Stories Tortoise O-Ring Wrap Midi Dress
Categories

New Posts

Hot Posts

Tag Cloud